Posted on
By Gallatin River Guides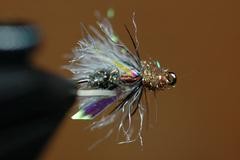 This modified Curtis' Hi-Vis Flying Ant was tweaked a little to reduce the degree of difficulty. This has been a very effective pattern for me late summer on many rivers in Montana and elsewhere.
 Revised Curtis' Hi-Vis Flying Ant
Hook: Standard Dry Fly 12-18
Thread: 8/0 or 70 Denier rust, brown or red
Gaster (rear body segment): Black or Peacock Ice Dub
Node (thinner body segment between gaster and thorax): Thread
Thorax (front body segment): Golden Brown Ice Dub
Underwing: White Widow's Web over medium opal tinsel on each side
Overwing: Pink or other bright color Widow's Web
Hackle: This is where I'd experiment if you don't want to do a parachute post or invest in dry fly hackle. You can try starling, brown hen neck, cdc or wrap hackle around the shank vs. in a parachute.
*There are many ways to achieve the look of legs without dry fly hackle. I've found that investing in dry fly hackle can be a major roadblock for many incoming tyers due to it's significant cost. I've made an effort to minimize the number of patterns I teach that require dry fly hackle and have instead stuck to pattern that do not require it or that can be altered and still fish and float effectively.