Posted on
By Jimmy Armijo-Grover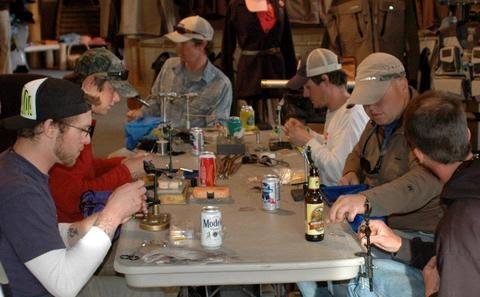 What better way to ring in the new year than catching some spunky winter trout!
In winter it's not about whether it's warm enough for fish to bite, it's about having the right layers and attitude to comfortably play outside. Fish need to consume a certain number of calories to survive and the colder it is the more they need to thrive.
The best fishing access on the Gallatin in winter is from the Big Sky intersection down to about Deer Creek Bridge. Below that anchor and shelf ice tend to make access challenging and dangerous at times. All depends on recent air temperatures. Some warm springs feed into the Gallatin right near the stoplight. That is also true just north of the Yellowstone Park boundary Snowflake Springs.
If you're patient and not worried about catching as many fish as possible in an outing getting a few fish to sip a dry is not out of the question. It is important to be at the right place, at the right time and with the right flies on. A CDC Cluster Midge or Silvey's Adult Midge are good options. A lightweight midge larvae dropper is also a good idea.
For you streamer junkies out there it's important to keep it "low and slow" this time of year. You'd be pretty hard pressed to find a fish willing to chase in the dead cold of winter, but if you slowly swing it in their front yard you may stand a chance. Hard to beat smaller black streamers, but by all means throw the box at 'em.
I will play my broken record again for you. Hard to beat a Pat's Rubberlegs with a midge or Lightning Bug dropper. Size 8-12 in black or coffee/black for the Rubberlegs, a black Zebra Midge or Copper John about 18-20 or a smaller silver or copper Lightning Bug sizes 18-20. With an indicator of your preference place the Pat's about 3-5' below that and then your dropper about 12-18" below that.
Most fish will be in 2-4' of water that is relatively slow moving, but provides good access to food and cover.