Posted on
By Lauren Jackson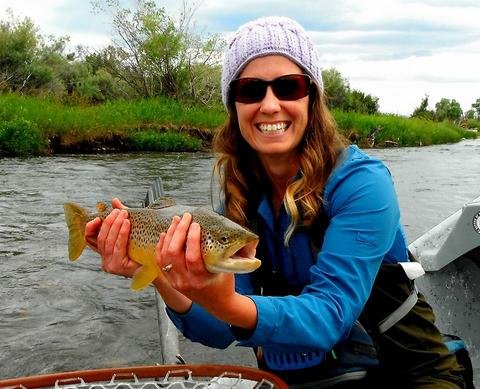 Wow. Busy summer in Big Sky. Busiest One Ever.
Like many residents in resort communities I spent the majority of the summer juggling a few part-time jobs, (fly shop, musician, waitress) working long stretches without days off, trying to make hay while the sun shines. You know how the story goes: lots of work and little fishing.
All summer I have longed to have the river to myself. Sometimes I'm just not in the mood to be in sight of other anglers. For me solitude means freedom. Its my style of meditation. No judgement, no direction, just me figuring things out for myself. Sure some days I'll take my fishing partners--my husband--(if I can get him to take a day off from downhill mountain biking) and my dog (an 11 year old boston terrier who doesn't see so well anymore); but it's nice to be alone too. My introvert self is happy in the fall.
Luckily, the switch has been flipped and fall is here. The shop has started slowing down and the guides are off chasing steelhead or catching up on sleep. They don't hesitate when asked how many days they have left. Much of their talk has turned to traveling, chasing steelhead and looking forward to some much deserved time off.
I feel the same way, well maybe only about the time-off part. For me, the thought of standing in the cold and rainy northwest for days without touching a fish holds little appeal. Not with the six month Montana winter around the corner. I obviously haven't injected myself with any "tug" yet. Hopefully someday I'll get the chance, but not this year.
This fall I'm looking forward to two things; solitude and saltwater. After a month of finding peace on the Gallatin, I'll be joining GRG for our hosted trip to
Turneffe Flats
, Belize. So my time on and off the water I'm deep into saltwater day dreaming. A week chasing bonefish in the tropics is just what the doctor ordered. I've been falling asleep to Youtube videos of strip-setting and double haul casting on repeat. Much like the fishing guides, I'm counting down the days. A fun challenge for a trout angler that includes hot sun, gorgeous water, and maybe a tropical drink or two.
And when I get back, the Gallatin will be even quieter than when I left. Perhaps with a fresh dusting of snow. I love fall.