Where Are They Now?
Wanna be on the list?
Attend our guide school, work hard, have fun, and get after it.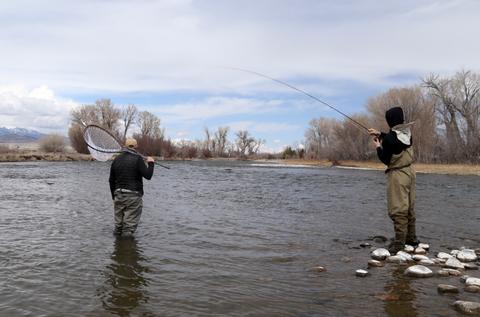 Darren Ward knew he had what it took to be a guide. He just needed the foundation and a nudge in the right direction. He's now guiding for a high-end lodge in Utah.
Lew Poage spent 24 years of his life defending our freedoms as a Naval Special Forces officer. Now he's chasing trout and making clients happy.
Rick Fancher was a high school gym teacher and coach in Billings, Montana. Guide school was a retirement present that ended up as a full time summer job.
Chaz Hart spent the bulk of his adult farming a cubicle. Now he's pushing pine as he rows himself to a better lifestyle.
Wil Kiplinger is a Steelhead junkie from Oregon who knew that he wanted to work in Alaska. Two guide school sessions later and guess where Wil is now?
Corey Mason was stuck in the mines of Nevada before he signed up for guide school. Now he chases MONSTER Pike in Alaska and trout in Idaho.
Mark Beattie grew up in a family of outfitters and guides, and used guide school to help further his guding career into outfitting.
Mike Donaldson was sitting at a desk listening to fishing stories from his dad when he decided to attend guide school and change his career path. He is still trying to outfish his dad though.
Kara Cain has been keeping herself busy helping with our very own Gallatin River Gals women fly fishing clinics, instructing our Montana Women's Fly Fishing School and working full time as a guide in the Dillon area. Lets just say that Kara spends more time than you on the river.
Anne Anderson went to Guide School in April, 2015 and has since become an instructor in our Women's Fly Fishing School and our free weekly Gallatin River Gals women's clinics. She also guides for Gallatin River Guides in the summer months.
Tyson Nunley grew up fishing in Montana near Billings and Big Timber. He worked for several years as an oil and gas technician. He'd had enough journeyman worked and knew his passion lie in helping people catch fish.
Drew Hay. Born and raised along the Missouri River Drew escaped the grip of Corporate America to instead grip big brown trout for his clients photos.