Since graduating from The Montana Fishing Guide School Kara Cain has been keeping herself busy working as a Fly Fishing Guide. Helping with our very own Gallatin River Gals women fly fishing clinics, instructing our Montana Women's Fly Fishing School and working full time as a guide in the Dillon area, Kara is on the water a lot. She is starting this season off by guiding a Warriors and Quiet Waters trip on the Montana's beautiful Smith River where she we will spending lots of time this upcoming summer.
Kara's best memory from Guide School was when her and instructor Stephen Liebinger doubled up with a Rainbow and Whitefish. Apparently in guide school when both you and your instructor land a fish at the same time, whoever catches the Whitefish has to chew through their cork.
How long have you been fishing? I have been fishing since I was a kid and got into fly fishing when I was in High School. I grew up in Idaho City, Idaho fishing the N. Fork of the Boise River which is still one of my favorite rivers. My parents fished a lot, so it was only natural that I fished too.
Why did you sign up for guide school? Did you want to be a guide when you signed up? Why?
I have wanted to become a fishing guide since I moved to Montana. A friend of mine is an outfitter and he said he would work with me on becoming a guide, but he has a very busy schedule so I wasn't sure how much time he would have. I thought by going to guide school I would be able to get the skills I need to become a guide much sooner, and I was right!
What made you want to be a fishing guide?
Everything about it! I love people, I love fishing, and I love the outdoors!
What was the best lesson learned from guide school?
That guiding, although very rewarding....is a lot of work! On the outside it looks easy but understanding that making things run smoothly and making sure your clients are safe is a big responsibility.
How many days a year are you guiding now?
Haha, I honestly don't know I forgot to keep track. I am just guessing but I would say 60+.
Do you still keep in contact with friends made in guide school? Still fish with any?
Yes! I made a very a great friend Anne Anderson who is also a guide. Anne and I live a couple hours apart but we have coordinated a few awesome fishing trips together. Also, Pat Straub has been great. He invited me to come up to Big Sky for Gallatin River Gals every Monday through out the summer and asked me to be one of the instructors for the Women's Fly Fishing School.
**Gallatin River Guides offers a FREE women's fly fishing clinic once a week throughout the summer months.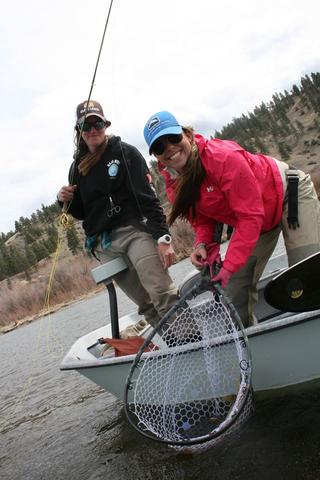 Speaking of the Womens Fly Fishing School and GRG's Gallatin River Gal's, why do you think it's important to get more women into and involved with fly fishing?
I love meeting new people, but get really excited when I meet other women anglers. Being a guide is a blast and I have made many friends over the years. Being a female guide means that I do have to work harder to prove myself to clients and peers. There is often a look of surprise on my clients faces when I meet them because they assume their guide is going to be an older guy, and then I show up. It's always a short lived surprise once we get to talking and I reassure them that this isn't my first day guiding. My hope is that with more female guides on the water we wont have to spend time answering these types of questions and can spend more time fishing!
Why would you recommend signing up for guide school?
So many reasons! I can't say enough good things about the guide school. First I will say, it is very well put together. The instructors are incredibly knowledgeable and so much fun to fish with. I think it's great that different speakers come in and talk about the business side of guiding (licensing, insurance, etc.) not to mention a class on entomology. Even if at the end of the week you decide guiding isn't for you, you will come out a better angler.