Posted on
By Jimmy Armijo-Grover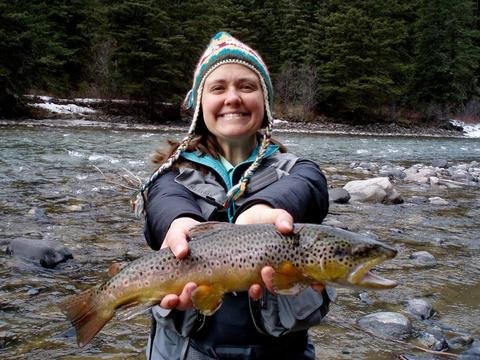 We're about to reach the midway point of our winter season! The chance of sub-zero temps is starting to fade away, ice buildup on our rivers is starting to recede in many areas and fish are continually feeding on available insects to survive.
If you've been itching to fish, but just aren't motivated by the cooler temps here are some suggestions that can help.
Hand and foot warmers. They are inexpensive and being able to stick your hands in your pockets for 5 minutes to find mini heat generators will make the decision to stay on the water much easier.
Hot food and beverage. Myself and a couple of fishing guides grilled our lunch the other day on the upper Madison. A brat never tasted so good. If grilling sounds a little too involved having a thermos of hot coffee or soup is much easier to pull off and will be a nice way to warm up after a few hours on the river.
Pre rig your rod. The flies we use and the way we rig doesn't vary much in winter. Setting up your rod in the comfort of your own home will make getting to the river faster and will avoid cold fingers right out of the gate. You could also set up a nymph rod and a dry fly rod in advance, because nobody wants to undo their nymph rig in winter because they saw a single fish rise. Carrying two rods has its downsides though.
Start warm stay warm. Get dressed indoors. You lose a lot of body heat as soon as you step outside of the car and if you also have to partially undress you could feel chilled before you even get to the river. Imagine stepping out of your vehicle and the only thing you have to do is grab your rigged rod and wading pack!
Walk. Trudging through snow or wading upstream is a great way to get your blood flowing. Just be careful not to fall in while wading. There's no quicker way to end a fishing trip in winter.
Be like a mountain goat. Nobody likes to fall in and no worse time of year than in winter. You can improve your stability with Patagonia's Foot Tractor boot with aluminum bars and a wading staff. There is a stigma attached to wading staffs, but having an extra point of contact while wading or trudging through snow could be a huge asset.
It's always good to fish with a friend in winter. Be safe and have fun. These fish will not be this easy to catch in August!