Montana Fly Fishing News from Gallatin River Guides
February 2017

February may be the shortest month of the year, but, this newsletter is long on goodies. At Gallatin River Guides fly shop here in fishy southwest Montana, fly fishing is always on the brain. This month's newsletter serves up the following:

Our very popular Three Rivers in Three Days Trip
Winter Fly Fishing. You can do it.
Fly of the Month: JuJu Bee Midge
Gear Review: Stealth Atom Sling
Fly Fishing Reading List
Fishing Schools Kick-Off Soon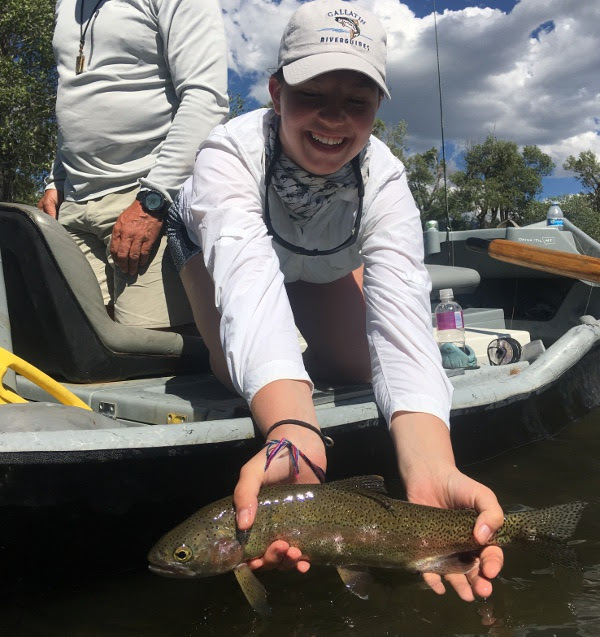 Three Rivers in Three Days
Our Most Popular Multi-Day Trip

Fished the Gallatin's boulder mine-field catching its beautiful wild trout? Check. Floated theMadison River's "50-Mile Riffle" with your favorite guide. Check, check. Cast salmon flies to rising cutthroat trout on the Yellowstone River through Paradise Valley. Check, check, check.

But…have you done them all back-to-back-to-back? We didn't think so. Then it's time for our very popular Three Rivers in Three Days trip. This trip has you fishing three legendary rivers with us—and we've been doing this for over 33 years now—and the excellent guides you've come to expect.

This trip is ideal for anglers of all abilities. Beginners will enjoy the variety and will be much better anglers at the end of the trip. Experienced anglers will enjoy the challenge of fishing a different river each day, also improving their skills.

Contact us today to book your trip for any month of the year. We can help with lodging as well. Solo angler? Not a problem as we have a special single angler rate!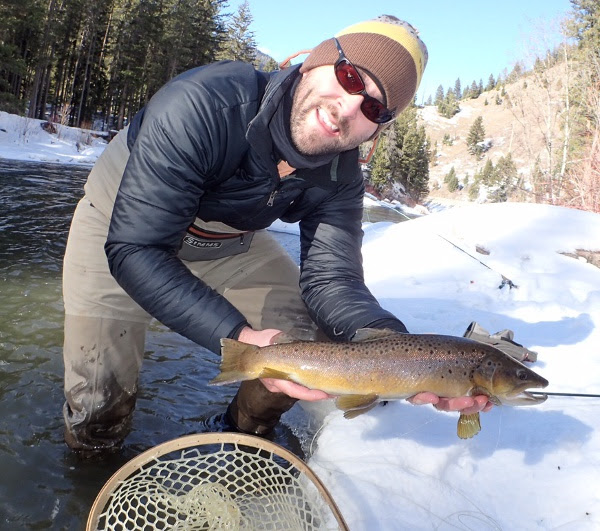 Winter Fly Fishing
Yes! We fish in winter.

Who cares if the groundhog sees his shadow. We're still going to fish anyway. Contrary to what you might think, fly fishing in winter is ideal for the casual angler. The best fishing occurs from mid-morning through the afternoon, so no need for a cracking early start. In fact, you could still get in a few ski runs or make that conference call before you hit the stream for a few hours.

Our location on the Gallatin River and one hour from the Madison River is ideal for year-round fishing and if you're planning a visit to ski in the Big Sky or Bozeman area, consider hitting the river as well. We offer a variety of winter fly fishing trips, including our popular half-day and two-hour trips on the Gallatin River.

Our guides can even pick you up at your slope-side lodging. Ski in the am. Fish in the pm.Heaven? Kind-of…it's Gallatin River Guides in Big Sky.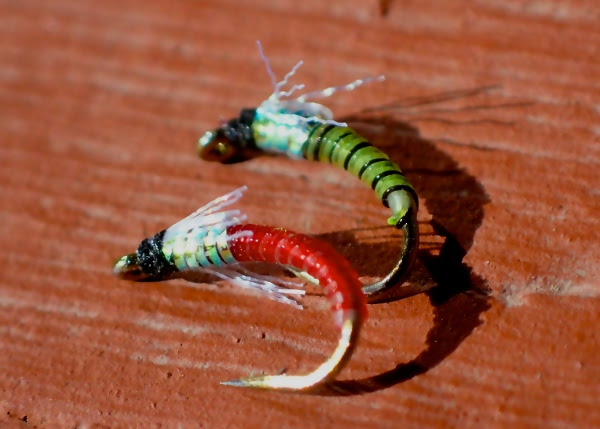 February Fly of the Month
The JuJu Bee Midge

Created by Charlie Craven, the JuJu Bee Midge is a beautifully tied midge larvae imitation that catches fish. Period. If you plan on doing any fishing over the next two months on the Gallatin or Madison Rivers, you must have a some JuJu's in your box. This fly can be fished as a deep nymph on a two-fly rig or it can be fished as an emerger. It can also be fished as both on the same two-fly rig. Did we just blow your mind?

Mostly tied in black, olive and red variations, but no reason not to experiment with colors on this pattern as well. The fact that it is tied without a bead makes it a great dropper off a small dry or behind a heavier lead fly that is less likely to get hung up on the bottom.

Hook: Dai-Riki 135 #16-22
Body: Super Hair or Slinky Fibre (2 strands of primary color and 1 strand rib color)
Thorax: Thread/fine pearl tinsel
Wincase: Fluoro Fibre white
Legs: Fluoro Fibre white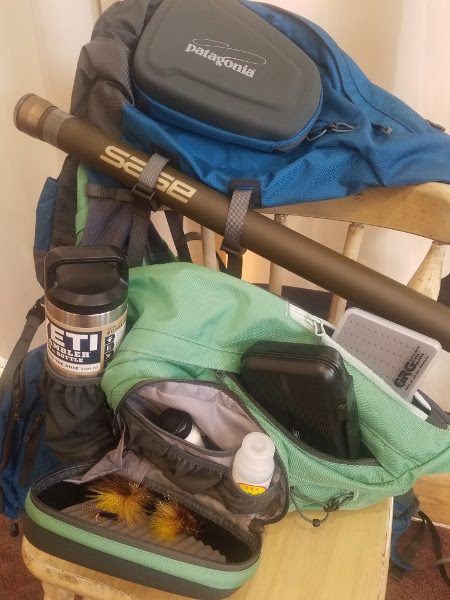 February Gear Review: Stealth Atom Sling
Carry your gear right this winter

Fishing in winter means wearing a lot more clothes than normal. You got your under-wader pants, your waders, your socks and sock liners, your long underwear top, fleece top, and the list goes on. What goes in your fishing pack is often the simplest part of the equation. Enter Patagonia's Stealth Atom Sling.

Our guides started wearing this pack in winter a few years back. It is lightweight, sits high on your chest and back so it never gets wet while wading deep, and it has great storage capacity. And, unlike other sling packs on the market, Patagonia added a strap to secure the pack. It is also great for casting two-handed rods. They should rename it the "last sling back you'll ever buy." It features:
Polyurethane-coated 840-denier 100% ballistic nylon is durable and protects contents with a DWR (durable water repellent) finish. Pack size is 15L
Comes in a variety of cool colors
Molded front drop-down panel with interior fly keeper; main zip pocket holds two large fly boxes and has interior hook-and-loop closure storage pockets; top drop-in mesh-lined security pocket; TPU-welded waterproof interior pocket
Exterior YKK® zippers with covered welt are highly water-repellent
3mm air-mesh back panel for comfort and ventilation
Adjustable neck and waist strap to allow for layering
Nylon/spandex water-bottle pocket with security keeper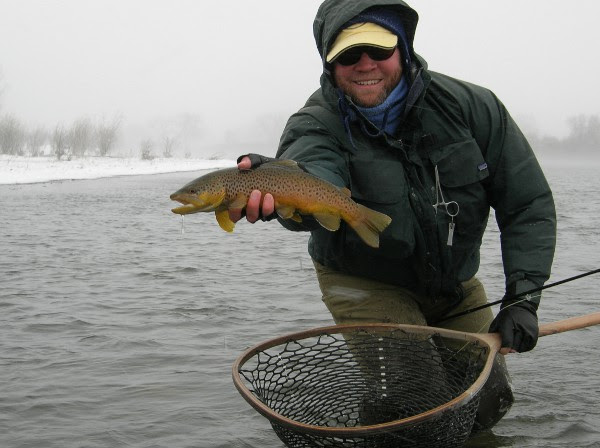 Can't Go Fishing? At least you can read about it.
Crack open any of these great fly fishing books.

Impress your fellow anglers with your angling acumen. Don't know what acumen means? That is ok—you could still at least figure out a double-nymph rig if you had to. Despite our air of self- importance, whether justified or not, that many fly fishers gravitate towards, finding a well-read angler can be as challenging as finding a salmon fly in February. An appreciation of the literature of our sport is as important as being able to get it done on the stream—you might be able to walk the walk, but can you talk the talk? Read the following books as a head start.
A River Runs Through It,
Norman Maclean, University of Chicago Press, 1979
The Longest Silence,
Thomas McGuane, Vintage Books, 1999
The River Why
, David James Duncan, Sierra Club Books, 1983 (now a Bantam Book)
Trout Bum
or
Sex, Death and Fly Fishing
, John Gierach, Fireside Books, 1985 and 1990, respectively
The Dry Fly: New Angles,
Gary La Fontaine, The Lyons Press, reissued 2002
Presentation
, Gary Borger,
Tomorrow
River Press, 1995
Body of Water, Chris Dombrowski,
Milkweed, 2016.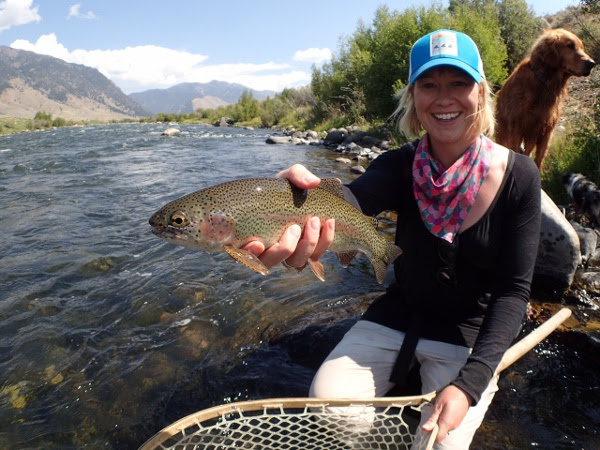 Our Fishing Schools Kick Off Soon
There's still space for you or someone you know.

March is a favorite month here at Gallatin River Guides. Our rivers begin to come into shape, the prospect of daily fresh powder at Big Sky Resort is high, and we get back on the water in earnest—fishing school season kicks-off!
We've officially made Kara Tripp our Women's School Director and she is stoked. And, based on the awesome feedback she received in 2016, if you have not attended one of our women's schools with Kara be sure to in 2017. Visit the
Montana Women's Fly Fishing School
for dates and costs. Our first session is in March so you can get an early start!
The
Montana Fishing Guide School's
first session is March 19
th
. We are planning a big line-up of schools for 2017. If you or someone you know has the desire or dream to be a fishing guide, send them to our guide school. If you want to learn to row safely so you can entertain the in-laws come summer, attend our guide school. If you just want to see what it is like to be a fly fishing guide take our guide school. At the end of the school you'll know where you stand. Your in-laws? Well, that's up to you.
Also be sure to check out the upcoming Fly Fishing Issue of Big Sky Journal featuring the Montana Fishing Guide School.