Turneffe Flats. 10/27. Day Three. Location: Turneffe Flats Lodge.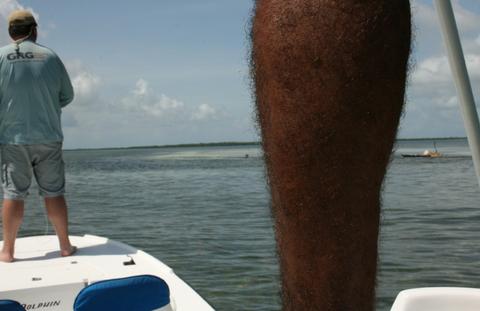 Day Three at Turneffe Flats began with one sole purpose: to chase permit. As we woke to the sun in our beachside cabana, a west wind was forcing out a minor cold front on the mainland. Despite three permit being landed yesterday, our guide felt conditions were still tough for permit fishing.
However, with a west wind today, the reef-side flats were calm and fishy. Upon our first hour of poling we saw bonefish and one small school of permit. The bones would have to wait another day…the permit were skittish and spooked before a cast could be made. Permit eluded us from that point forward.
As the skies cleared and the sun lit-up the flats, schools of bonefish were seen, but not cast to...permits were on the brain and stayed on the brain until we returned to some ice cold Belikins in the comfort of the cool Turneffe Flats main lodge. They'll remain the focus tomorrow as well.
Jimmy spent the evening, before cocktails and dinner, wading the flats in front of the lodge as Pat writes the update. As the sun sinks to the west and through the swaying palm trees the golden light fades, Day


Three ended like a storybook.


Day Four update when it happens.


Gallatin River Guides wishes to thank Hatch Reels, RL Winston, CF Burkheimer, and Simms Fishing Products for providing some test gear for the trip.