Posted on
By Jimmy Armijo-Grover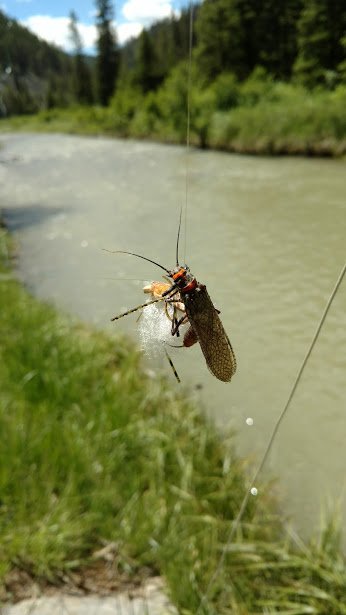 Article written for Cast 2018: Fishing Southwest Montana
The Gallatin
by Jimmy Armijo-Grover
From its headwaters in Yellowstone National Park to the confluence of the Missouri River at Three Forks, the Gallatin shines as a blue-ribbon fishery unlike any other in southwest Montana. It's narrow and slow in the meadows of the Park, fast and furious as it tumbles down the Mad Mile, and braided and treacherous through the Gallatin Valley between Gateway and Belgrade. For the fly angler, it's a dream come true.
Access
The Gallatin River offers Bozeman-area anglers a year-round fishery with miles of great walk and wade access. From its intersection with Fan Creek in Yellowstone Park to the mouth of Gallatin Canyon just north of Spanish Creek, it winds alongside Hwy. 191. This nearly 50-mile section contains dozens of access sites, pullouts, and campgrounds for the public to use.
Access is limited to hiking and horseback above Fan Creek. Below Spanish Creek down to its confluence with the Madison and Jefferson rivers, a few fishing-access sites are sprinkled throughout what is largely private land.
Flows
The flows of the Gallatin can fluctuate wildly from its lows in winter to peak runoff in late May and early June. Not only is there a seasonal fluctuation, but also the river inside Yellowstone Park tends to be much smaller than the river we find closer to Gallatin Gateway. Downstream of Gateway, much of the water is diverted for irrigation in summer, making the lower section feel quite small for a period of time.
When to Go
There really isn't a time when the Gallatin isn't fishable. Even during the coldest days in winter, natural springs near Big Sky keep the river from freezing completely in the upper canyon. And during the hottest days of summer, the upper Gallatin offers cool water for anglers and fish to enjoy. It's important to know that the Gallatin outside of Yellowstone Park is open year-round, but within the Park, its season begins the Saturday of Memorial Day weekend and ends the first Sunday in November.
In winter, the most consistent water temps are found in the 6-8 mile stretch from Big Sky downstream; a short section just above Taylor's Fork near the Park boundary; and in the valley, as long as temps are staying in the double digits.
Spring offers some of the most productive fishing of the year, but sees the greatest fluctuation of weather and river conditions. Most anglers find more success fishing subsurface in spring, especially during runoff.
Summer is by far the busiest season for the Gallatin and all rivers in southwest Montana, but for good reason. If dry-fly fishing is what you live for, this is your season. In late June, expect to see salmonflies and golden stones; spruce moths in late July and early August; and finish off with hoppers, fall baetis, and the occasional October caddis. Although you could probably catch more and bigger fish with nymphs, I would take a few hours of great dry-fly fishing over a week of spring nymphing if given the option.
Water temperatures can get too warm in the valley in late summer, sometimes leading to river restrictions; but the river from Spanish Creek upstream will almost always provide reprieve. I urge all catch-and-release anglers to adopt practices that reduce undue stress on fish.
Autumn is the quiet season for the Gallatin. Summer vacation is long gone and the ski slopes are just about to hit their stride as fall comes to an end. It's also a relatively quiet time from an angler's perspective. Dry-fly opportunities are minimal and fish just aren't as agreeable in fall as they are in other seasons. Maybe they're hung over from a busy summer or maybe it's due to the lack of insect activity. That being said, having the river all to yourself is a pretty good tradeoff for slower-than-average days. To be successful in fall, most anglers resort to nymphs and streamers.
Fish
From top to bottom you can catch cutthroat, rainbows, browns, brookies, whitefish, and maybe even a sculpin or grayling. Rainbows dominate, but whitefish and browns hold their own. Cutbows, or rainbow-cutthroat hybrids, are also very common in the main river, much more so than pure cutthroats. Rumor has it that there is a very small population of grayling that are holdovers from an attempt to reintroduce them years ago.
Row vs. Wade
Walk/wade anglers rule the Gallatin, as fishing out of any watercraft is only legal from the Nixon Bridge in Manhattan downstream to the confluence with the Missouri River. If you want to float the lower section, do your homework as boat launches are challenging and dangerous conditions may exist.
Regs
It's always important to refer to the most recent printing of either FWP fishing regulations or that of Yellowstone Park. Standard regulations tend to apply to the Gallatin.
Getting there
From Bozeman, head west to Four Corners and jump on Hwy 191. South will take you through Gallatin Gateway, Gallatin Canyon, and to the southernmost access point, Bighorn Pass Trailhead. There is also an access site just west of Four Corners on Norris Road. North of Four Corners, you'll only find a handful of access points near Belgrade and Manhattan.
Jimmy Armijo-Grover is the manager of Gallatin River Guides in Big Sky.