Flashback Pheasant Tail
Hard pattern to beat. The Pheasant Tail has been a tried and true pattern for decades. The standard pattern is a great imitation of a mayfly nymph and can be fished just about anywhere in the water column. A must have for any nympher's box.
Hook: Dai-Riki #065 12-24
Thread: Black 8/0 or 70 denier
Tail, abdomen and legs: Pheasant Tail
Rib: Fine Copper Wire
Wingcase: Pheasant Tail with large pearlescent mylar over the top
Thorax: Peacock Herl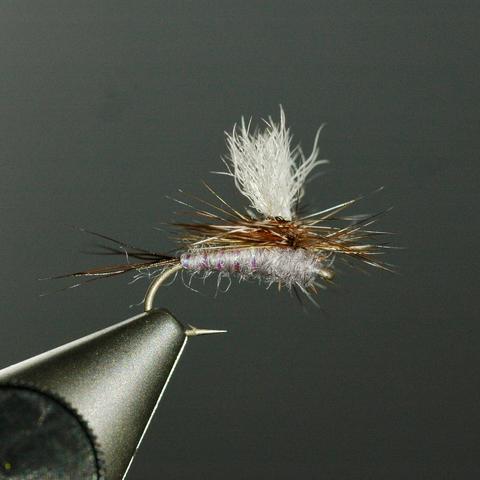 Para Wulff Adams
The new and improved version of the Adams and Parachute Adams. This fly has a spit tail that gives it a more realistic profile and helps it float better, a little flash in the body cause you know the fish love the flash and a split wing parachute that makes this fly very easy to see for its size. Not a fast tie, but worth having in the box. Can be tied to match all varieties of mayflies.
Hook: Dai-Riki #320 12-22
Thread: Gray or color to match, 8/0 or 70 denier
Tail: Moose Body, microfibbets, or stiff hackle
Body and thorax: Adams Gray dry fly dubbing or Muskrat underfur
Rib: Pearlescent Krystal Flash
Wing: Calf tail or body hair
Hackle: Grizzly and brown dry fly hackle