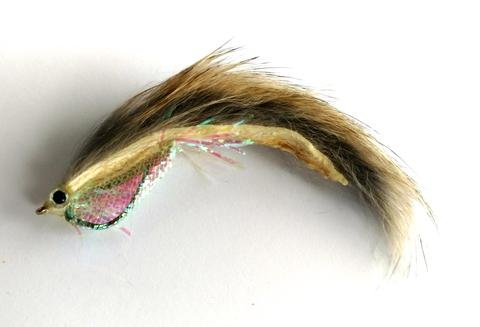 Hook: Dai-Riki 700, Size 2-8
Thread: 140 Denier or 6/0 white
Underbody: Lead or non-lead wire .025 - .035
Body: Pearlescent Mylar Tubing
Tail: Natural Rabbit Zonker Strip
Throat: Loose rabbit fibers
Head: Thread and Loon UV
Eyes: Yellow and Black Paint or adhesive eyes

When most people think of streamers today they either think of the Woolly Bugger or some other classic pattern or they think of Sex Dungeons and other new-aged big articulated streamers. Very few people would put down the Zonker as one of their favorites, but over the years it has become a staple for many fishing guides. It's a great streamer that can easily be fished under an indicator.

You can tie the Zonker in a variety of sizes and colors. It's a relatively easy pattern, but rarely tied outside of commercial production. Two things make this fly intimidating: the formation of the belly and the eyes.

I wanted to share a video of how to tie, but couldn't find one that shows how to tie the most common commercial version. We'll just have to learn as we go.

Hope to see you all this Thursday evening at 5pm. Please bring tools and thread and I'll supply the rest! BYOB