Posted on
By Jimmy Armijo-Grover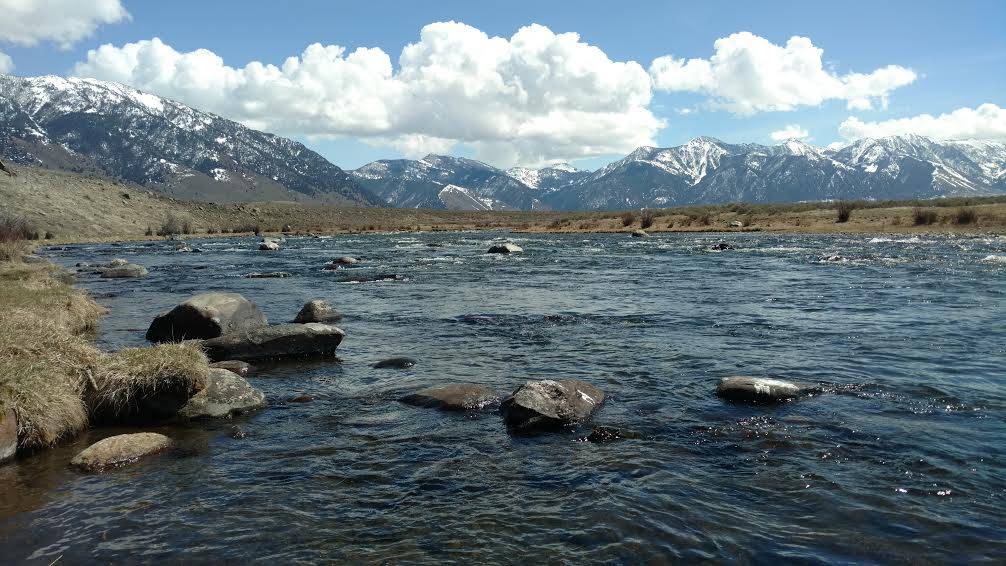 Written for Cast 2018: Fishing Southwest Montana
The Upper Madison
by Jimmy Armijo-Grover
The upper Madison River is everything a trout stream should be: cold and clear; wild but accessible; and dependable but varied. Fly anglers travel from around the world to ply the Madison's waters, and she rarely disappoints.
Access
The upper Madison starts at the confluence of the Firehole and Gibbon rivers in Yellowstone National Park and extends to Ennis Lake. From Ennis Lake to the Park boundary, the river parallels Hwy. 287, has dozens of access sites, and is surrounded by a mix of private and public land. Within the Park, the lower section has a couple of parking areas while the upper stays close to Hwy. 191.
Flows
In general, the flows of the upper Madison are quite stable, especially between Hebgen Dam and the West Fork, due to controlled release. Snowmelt is inevitable in spring, so flows naturally increase. The West Fork of the Madison River can have a significant effect on the lower float section of the Madison during runoff, but usually remains fishable.
When to Go
Within Yellowstone Park, the season starts the Saturday of Memorial Day weekend and ends the first Sunday in November. Outside the Park, all sections of the Madison are now open all year, offering one of the most consistent year-round fisheries in southwest Montana.
Below Lyons Bridge, the river becomes more inconsistent, both in winter and summer, when exposed to extreme temperatures. Near Ennis, summer water temps can border on being too hot and in winter, ice jams are sometimes a reality. Float-fishing takes place primarily March through October, but can be an option even in winter if conditions allow.
In late June and early July, swarms of anglers are unleashed on the Madison in search of salmonflies. Who doesn't want to catch some of the biggest trout in southwest Montana on two-inch long dry flies? After the first week of July, the river remains busy, but anglers spread out, leaving a little more room to breathe. Great hatches of golden stones, assorted varieties of caddis, PMDs, yellow Sallies, Epeorus, spruce moths, and more keep things interesting for trout and angler until early or mid-August.
From August into October, hatches of aquatic insects decrease, but dry-fly fishermen can rely on terrestrials like hoppers, moths, and ants. Hatches of caddis and fall baetis are not out of the question, but become more infrequent.
What really gets anglers riled up this time of year is the thought of catching the brown trout of a lifetime. Every fall, tales of trout in the low-to-mid twenty-inch range are common. To anglers that appreciate this fishery and want it to thrive, I highly suggest avoiding spawning redds and fishing to actively spawning fish.
Need an excuse to get out of the house in winter? Take a drive up to the walk-and-wade section or in between the lakes. Up there you'll find some excellent opportunities and it's not uncommon to have these places to yourself. Most fish are caught subsurface in winter, but occasionally you can find a pod of fish sipping midges. Streamer fishing isn't out of the question either. You'll likely need to traverse deep snow to access the river.
Spring is no slouch either. Hatches of midges and baetis are common and you can expect sporadic caddis hatches, including the Mother's Day sometime in May. Later in spring, the river will swell and become turbid. The beauty of the upper Madison is that it continues to perform, even when it looks like watered-down Yoo-hoo.
Fish
Rainbows, browns, and whitefish rule the upper Madison. Rainbows are evenly dispersed throughout the river, but brown trout numbers are much stronger in the walk-and-wade section. For a few years now brown trout numbers have waned in the float section. Some believe it could be due to increased fishing pressure in fall when brown trout are spawning. Cutthroat, grayling, and brookies are scarce, but present.
Row vs. Wade
The upper Madison offers great opportunities to fish on foot and out of a driftboat. Fishing out of a watercraft is legal between Lyons Bridge and Ennis Bridge. Floating is allowed in other sections, but anglers must exit their watercraft to fish.
Regulations
Refer to the fishing regulations for Yellowstone National Park and/or Montana as many exceptions do apply to specific sections.
Getting There
Much of the upper Madison can be accessed along Hwy. 287. The Valley Garden section is on the edge of Ennis and can be fished on foot; continue south/upstream to access multiple fishing-access sites in the Madison Valley. Alternatively, head south from Four Corners on Hwy. 191 to access the section inside Yellowstone National Park. To fish in between Hebgen and Quake lakes, both routes are about equal distance from Bozeman.
Jimmy Armijo-Grover is the manager of Gallatin River Guides in Big Sky.