Posted on
By Shane Stalling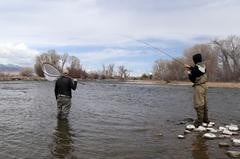 By Shane Stalling; GRG Staff
I have never met Wil Kiplinger before I called him to ask him a few questions about
The Montana Fishing Guide School
. It took under ten words to know that Will was a good dude and I was a jealous dude......he was heading home from Steelhead fishing on the Umpqua. Wil has completed two different guide school sessions with us and spoiler alert! It payed off with Wil landing his dream job.
Wil and Pat Straub work together to land an Upper Madison trout during the Montana Fishing Guide School
Why did you attend guide school?
I have been fishing since I could walk and I always knew that fishing would be my life. I attended guide school to see what it would take to become a guide. I wanted to take what I learned in the Montana classes and apply it in Oregon where I originally was planning on starting a guide business. However, plans changed when I was in my first guide school session and a student in the class, Mark Beattie (who was in the class to figure out how to finalize his outfitter license) took note of my fishing abilities. We hit things off and at the end of the class he offered me a guide position for
The Rock Creek Cattle Company
the following summer. Working for an established outfitter sure sounded better than trying to start up a client base from scratch in Oregon, so I took the job.
What was your biggest Guide School takeaway?

I would say one of the most important things from guide school is understanding that being a guide isn't just about having clients catch fish. I can always catch people fish, but if you don't know your audience you are fishing with or don't get an understanding of what they want out of the day, you can catch 100 fish in a day and people will still say they had a bad time because their personal expectations for the day weren't met. Start your day with asking them what they want and go from there.
Did guide school expand your list of people to call to go fish with? Make some new fishing buddies?

I kept in touch with Mark all the time because he was my boss last summer and because he's a great guy. We still fish a lot when I'm in Montana.
Did you have a future plan laid out before Guide School or were you just winging it?
My game plan was to work in Montana for at least 4 years, gain some fishing credibility and then head to Alaska when I could get a job guiding up there. At the end of my season at Rock Creek last summer I spontaneously decided to send an e-mail to the owner of a fly out lodge in Alaska called "Rapids Camp Lodge." I wasn't expecting to get a response but within 10 minutes he replied asking for a Resume. I sent him my Resume and I don't think he would have been as interested if I didn't have my two
Montana Fishing Guide School
sessions on my Resume. I got the job and will be a guide for Rapids Camp Lodge this upcoming summer. This has always been my dream and it's about to come true way sooner than I originally had thought at the age of 19.
That's awesome Guide School helped fast forward your dream of guiding in Alaska. Makes us smile! Any last thoughts or advice for the aspiring fishing guide?

If you are wanting to become a fishing guide I highly recommend you attend guide school. They will walk you through everything it takes send you in the right direction. In just one week you will learn fishing techniques that it takes some people their entire life to master. Nothing but good can come from signing up for this class. Who knows, your future boss might even be in the class with you!