Jane Pratte has taken her hobby and passion for women learning and enjoying the art of fly fishing to a whole new level.
After attending the Montana Fly Fishing Guide School, Jane has developed Wyoming Women Anglers to create a non-threatening environment for women to fish and learn from each other. The following "Where are they now?" piece also includes Jane's "Guide School Recap" for those of you who would like to learn more details about the day to day of guide school and follow along with her adventure. (Jane is pictured below with her brother John on her home waters in Wyoming.)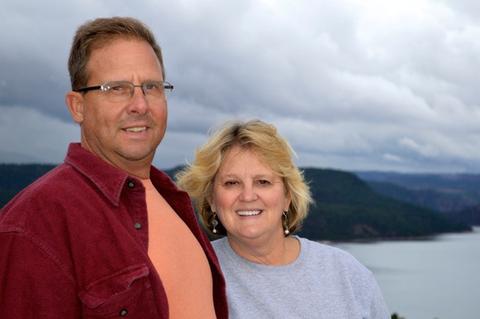 How long have you been fishing?
8 years
When did you attend guide school?
May 2016
Why did you sign up?
I wanted to learn to fish better, and understand what it means to "be a professional guide."
Why be a guide?
I like to share my interest with others, particularly women. Women want to fish but seem intimidated by the male guides. I thought that if I could learn, I could teach some of the ladies I encounter.
What was your biggest takeaway?
It's not as easy as it seems. Guides work long hours, mostly coaching others to do what they would like to do, fish! Also, you must learn the waters of the river or lake you may be guiding on. You don't just walk up to a river and catch fish.
Favorite memory from guide school?
Rowing, rowing, rowing and the guide instructors! The instructors put in long hours to teach you. The school only asks their best guides to teach the class, and what a great opportunity to fish with 5 experienced guides!
Are you guiding now?
I have guided a bit in Saratoga, WY, and I have hosted some classes to teach others. In a small community its important to ease into the business.
If you are guiding now, what was your biggest challenge in getting started? Did guide school help with that?
My biggest challenge was having the confidence to take that first step. There are a number of guides working on the North Platte River, specifically out of the one guide shop, Hack's Fishing. The opinion of women fishing in this area is "the women just aren't serious." It takes time to change that attitude.
Why should someone sign up for guide school?
Do you want a challenge? Are there techniques that you have not mastered? Are you curious to know what it takes to be a professional guide? Do you wonder how hard it is to row a drift? If you answered yes to any of these questions, this school is for you...and continue reading below for a more personal and in depth look into my week at the Guide School. (Jane is pictured in blue below with her guide school classmates.)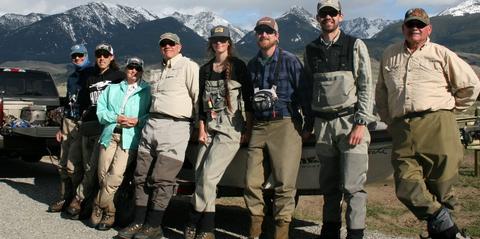 Jane Pratte's Montana Fly Fishing Guide School Recap
Day 1: Introductions, Rules, Bugs, and Gallatin. 8 students have signed up for the 7 day class. 6 guys and two gals showed up at the Montana Flyfishing Guide School in Big Sky, Montana @ 8 am. Class began promptly with introductions and coffee and sweet rolls. Four of us are 55+, two retirees and two retiree wanna be's. The remaining 4 are under 30, one of which is a 20 year old gal. Her father is a guide and she "talks fishy," according to the leader of the guide school, Pat Straub. I'm 63, the oldest in the group and know I have lots to learn.
After 4 hours of classroom time learning about the rules and regulations of the fly fishing industry and the bugs that fish eat, we hit the Gallatin River. This stretch of the river between Big Sky and Bozeman is a fast moving mountain river with steep banks, tall evergreen trees and large boulders. The day is beautiful: blue skies and a warm 62 degree temperature. I was assigned to a guide named Steve along with a second student, Doug. Doug is a retired truck driver from North Carolina, who'd recently moved to Great Falls where his wife took an assignment at a Lutheran Church.
Steve begins instruction as soon as we stepped out of the vehicle. Ideas about how to approach the river, proper way to carry your gear, assuring your client is safe and a discussion as to how to fish this particular run of the river. We waded into a shallow spot and then he asked about our casting skill. Before he let us begin to fish, he demonstrated a roll cast and we geared our rod with a big #10 stonefly with a #18 prince nymph 12" below the top fly. Then, I was placed in a spot and told to begin fishing.
I executed the roll cast into a "seam" of water which is suppose to be a "feed lie." This lie is where the fish line up facing the current to catch food as the current passes. I cast about 10 times when Steve came back and corrected some things I was doing wrong. I was holding my cast too long causing the bug not to travel far enough out to get into the feed lie. Three casts after that correction, I caught my first trout! Yeah... We continued working up current, hopping past the other fisherman to work the stretch and I caught a second trout in a ripple. Loads of fun. 5 hours later we left the river, put away gear and went to a restaurant for a night session.
The night session began with a brief evaluation of our first day. My big take away was the observation of a varied diet for the fish as shown by Dave Newsome, a long time guide and outfitter and entomologist enthusiast. I also felt I had improved my roll cast, thanks to Steve's observation. Next, we all entered the dining room of the riverside restaurant, sat down and began a 3 hour first aid course. Dinner was served while I was practicing CPR on a fake baby and we all grabbed bites while learning to " make the scene safe, call 911, and begin CPR" -- the base of the American Red Cross course. We also bandaged wounds, talked about how to pulled out a fly that might get stuck in a client due to a poor cast, and stabilized a body for transport. At 8:20, we finished both dinner and class and then drove the 30 minute drive back to Bozeman. The Gran Tree Best Western was waiting and I rested in their hot tub before sleeping like a baby.
Day 2: Intro to Rowing and Lower Madison. So it's 6:35 pm and we have returned to our hotel room. Tonight we have no evening session, and I'm happy about that. I'm in the bar having a cold beer and gonna order some dinner.
Today was rowing lesson day and fishing in a drift boat. Oh my gosh, I had no idea how difficult this would be. The rowing wasn't so hard, but understanding how to make the boat go where you wanted it to go- gosh, I showed my left/right brain ignorance! And of course, I think I was the only one that had never rowed a boat before.
We traveled to the Lower Madison River and put in about 30 - 40 minutes from Bozeman. It's beautiful with wide rolling hills, a big river and blue skies. Ted Turner owns a good bit of river access property and raises Bison, which were grazing along the hillsides. Along the river there are also cliffs and juniper trees. Frankly I didn't see much scenery as I was concentrating on my job of rowing.
The frustration of trying to understand that you move the REAR of the boat to the right by pulling the left oar and then judge how the current would move you into position baffles me. Since I was the only one that had never rowed a drift boat, I put myself behind the oars and stayed there most of the day. I navigated to the fishing seam, dodged rocks, and generally tried to keep the boat where it was supposed to be. My instructor, Sean, said I improved but I didn't see it myself. Hence the beers tonight.
I'm thinking I'll go back to my room, sit on the floor and row a while. Or watch you-tubes to see a different perspective that would help me catch on faster. If you have any advice, I'm all ears.
Day 3: Marketing and more rowing on the Yellowstone. Following a lecture on how to market yourself as a fly fishing guide, our group of 4 boats was headed out to the Yellowstone River. I worried all night trying to figure out the hydraulics of rowing and met Sean to review what I'd decided. Interesting, I had it exactly backassward. Brad, another guide, explained it in a funny demo of falling downstream and using your arms to control your fall. He "rowed backwards" with his arms pretending to be preventing a downstream fall and swinging his arms left to go right and right to go left. It was funny and I did get it. I even tried it myself. The day started out much better than expected.
I was fishing/rowing with Pat today and my partner was Lindsey, the 20 yr. old "fishy" gal that talks the language a lot better than me. I jumped into the rowers seat eager to learn more about this endeavor. Pat was a laid-back instructor and the day was less intense. When I did fish, we used a hopper/dropper rig, with a #12 Pats Rubber Leg (coffee colored) fly at point and a small #18 lightening bug nymph about 12" below the point fly.
The Yellowstone River was beautiful with fast current that slid over large boulders, some ripples were fished and there were v-currents where the river narrowed before widening again. Pat gave good instructions and we slid down the river with little issues (although I realized I've still a lot to figure out). Lunch was served on a cobblestone shoreline. I had a delicious box salad and a peanut better cookie.
I took to the oars again after lunch and the afternoon was much the same as the morning. I decided I'd stay in class after all. We pulled into the boat launch. Following the pull out and stowing all the gear away, an evening class started.
Pat had arranged for the group to have casting lessons. Matt (I don't have his card in front of me for his last name) was a jovial young man with bushy red hair, red beard and a warm smile. Matt is a Certified Casting Instructor and runs a program out of Livingston, MT.
Matt lined us all up in an open field area and asked that we cast so he could see what was working to teach or correct. He started with the overhand cast and gave a demo showing the proper method of casting to ensure maximum power with minimal effort. His instructions were clear and easy to follow. He came to each student and corrected the cast as needed. Myself, he told me that I was too slow on the pick-up. I used his method and could tell immediately that my cast was improved. The same technique was used for the roll cast and a cross-over cast. The students were all pretty tired and Matt could tell he was losing his audience.
To finish up, he demonstrated spey casting on the riverbank. Quite impressive: his reach and his accuracy. Matt does give a certification class and I'd like to take that in the near future.
We left the river at about 8pm and arrived back at the hotel at 9. A quick supper and a cold beer and I fell into the comfy bed. Wednesday was planned to be another big day.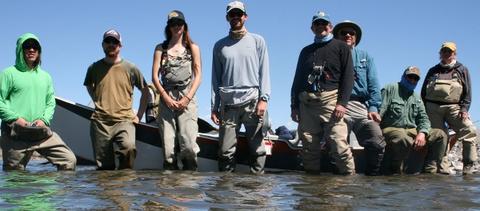 Day 4: Fly Tying and a second day on the Yellowstone. Wednesday is gonna be a big day. After fishing, we will drive up to Craig, MT, 3 hours north to fish the Missouri Thursday-Saturday.
The day started @ 7am with a fly tying class. Jimmy, Gallatin River Guides' Shop Manager, had setups for us each to tie a BWO, size 14. Jimmy passed out all the materials and for 1 1/2 hour we all tied flies. I really enjoyed this. Since I had tied flies for a couple of years, I could understand the instructions and was pretty successful.
At nine, we loaded with up and travelled to the Yellowstone again, a stretch that was a little more challenging. I was paired with Steve and Scott today. Steve, our instructor/guide, is very professional and I'm looking forward to fishing with him today. Scott is a semi-retired surgeon from Billings, MT who is an experienced angler.
The put-in was on river right (I'm beginning to pick up the "fishy guide" lingo). Lol. As we begin the 7.8 mile stretch, the first challenge is to row through two river bridges where the water is swirling. I was not ready for that challenge and Scott, fellow student took the oars to get us safely past the obstacles ahead. I took my rod in hand and began to cast to the bank on river left. I was fishing with a Pat's Rubber Leg stone fly pattern with a Lightening Bug nymph tied as a dropper again. Pretty fancy rig, if I do say so myself!
I cast my flies out about 15-20 feet from the boat and let the bugs drift while Scott, the surgeon from Billings, rowed us through the difficult channel. Scott has owned a drift boat for 10 yrs. and is quite experienced. He did a great job and was very excited that he was able to master this run. We got through just fine and at the tail of the eddies coming off the bridge abutment, I snagged my first Rainbow trout of the day! :). The river was fast moving and we moved downstream fairly quickly. After about 1 1/2 hours I suggested we switch so Scott could fish - I could tell he was itching to get his fly in the water.
Still a novice oarsman, I was eager to continue learning the skill of rowing. Once in the middle rowing position, I put the sticks (guide jargon for oars) into the water and pushed us into the current. I rowed until lunch, moving the boat in a zigzag pattern down the river (zigzagging is not good, it's the result of not being sure which direction to move the boat). But Scott and Steve were patient with me and I rowed until lunch. Scott caught about 3 fish during this time and was pretty happy.
We pulled river right into some quiet waters and when all 4 boats were gathered we ate lunch resting on a grassy knoll along the banks of the mighty Yellowstone River. After lunch, I again took the oar seat and we pushed off downstream. Steve taught me how to head my boat into ripples for Scott to fish, into white capping waves of a v-channel that was dropping elevation, and into the seams of fishy waters near rip-rap and rock cliffs as we moved along.
Scott caught several rainbows and even a brown trout. Also whitefish were biting and though no self respecting trout fisherman wants those on the line, they still bring a smile to all in the boat.
The weather was chilly but sunny which was fine for me. I was working hard trying to keep a straight line as I rowed the backstroke to guide the boat. I did swap out with Scott a couple of times so he could row and I could rest - I mean fish. Hehehe.
Our most exciting fishing came at the end of the day when Steve noticed that the caddis were hatching and fish were rising to feed to our river right. We quickly beached the boat downstream, got out and walked about 30 feet upstream and fished off the bank with a dry fly. Dry fly action is a fly fishers dream. I caught a 12" trout off a caddis fly, Scott caught 3 and Steve caught one too! What a blast!
Steve rowed us "home" to the take out and the fishing day ended at
about 5:30. But the student's day was not over. We were given directions to our next destination; the Mighty MO, the Missouri River, a stretch which is classified as tailwaters of Holter Dam near Craig, MT. It was about a 2 1/2 hour beautiful drive north on Interstate 15. The scenery was spectacular and if I wasn't in such a hurry to get to Craig before dark, I would have stopped to snap some photos. I did grab one pic of some horses on a ridge that were merely shadows in the setting sun.
I arrived at the End Of The Road Cabins at 8:30 pm. Being the only female on this part of the trip, I was assigned "the cutest little cabin" you ever saw all to myself. God is good!
Craig, MT, is a fishing town. With only 30 full time residents, 4 fly shops, 2 bars and one restaurant and a hundred drift boats on trailers. This small wide spot just off I15 defines itself.
Craig is two boat launches from the Holter Dam and with much activity funded by many fisherman each year, the facilities are top notch. The launches have wide parking areas and concrete launches and pretty swell outhouses.
I had grabbed supper on the way up so once I settled in, I opened a bottle of wine and sat on the deck of "the cutest cabin ever" to enjoy a glass starring at the full moon. Delightful.
Day 5: Knots, Rigging, Missouri. Thursday morning, we convened for class which was an hour session on knots and rigging. I needed the practice and learned two new knots: blood knot and a uni - knot. Both of these came in handy the next few days.
I was paired up to fish with Brad and Brad is our guide/instructor, a really quality guy with a business degree from Washington State and a law degree from the same university. But he says he hated practicing law and decided the life of a guide was for him. He's pretty laid back and I'm looking forward to my day.
One reason I'm happy about this day is that I had seen the Mighty Mo and it's a WIDE, slow moving river and I'm thinking my rowing skills will improve a lot. We load up and go to the Stickler put-in and get the boat launched. The trip today is 9.8 miles from Stickler to Mt. Pleasant take out. I may not have said, but each day, there is a safety on the water routine that is followed before launching. Each guide has a check list to review before the boat is set to go. I appreciate learning each guides routine which is very similar but tweaked a bit, dependent on equipment.
We push off and I'm in the rowing seat. After looking at the water conditions and checking the water temp and CFS, and looking at the fly shop recommendations, we anchor and rig up a 9' leader, 6" tippett, a thing-a bob, 1' tippett, #6 split shot and then 18" tippett with a #14 pinkish scud at point and a #18 Ray Charles nymph on a 3x tippett about 12" below the point fly. Hopefully adjusting the bobber and splitshot will get our flies to the desired depth. When we are all rigged, I push us out into the slow moving current. Today for the first time, I feel like I know where to row the boat and how, well kinda how.
I learned the "row around" technique and executed this many times when my partners get a hit. It's fun and I enjoy rowing. I fished some also and caught my largest fish, a 20" rainbow on a Ray Charles #18 nymph. This held significance for me. My oldest brother Pat, who died from bone cancer, loved to go around our house when we were kids talking in his best Ray Charles voice. It made me smile and I wanted that "grab and grin" shot. Funny that Mark had given me instructions on reeling in this fish. So much so, that I hollered at him to "stop yelling at me". After the fish was landed and hook removed, we anchored by the shore to grab the photo, I was out of the boat ready to gently lift the trout from the net when Mark declared, "I let the fish slip from the net". I should have been mad, but realized he was embarrassed so I just told him he owed me a glass of wine!
The river is awesome and I can handle myself fairly well. Towards the end of the day, Brad rows to a spot behind a small island near the take out. There trout are rising and we get to dry fly fish. I caught a Prince Nymph in the right pinky finger. Brad expertly removed the hook and we rowed in for the day. We had a good day and although tired, I'm feeling pretty good about the next couple of days!
The gang of us went to dinner at the only restaurant in town, Izaak's. In memory of the day, I ordered fish and chips. Oh, and after dinner, Mark showed up at "the cutest little cabin" with that glass of wine he owed me!
I'm excited and anxious about Friday, I'm selected to have a guest client for 1/2 day fishing.

Day 6: First Client on the Mo. Friday was day six and also my evaluation day. Following my coffee and protein bar breakfast, I joined the other 6 students (our 20 yr. old gal had dropped out with other pressing business). Steve talked with us today explaining how to manage schedules and a guides "book." The book is a list, a history, of all the clients he had fished with. This important book held notes of the fisherman, their skill level, river fished, dates, and fish caught. This book gives him the notes he needs to recall this time together, to make small talk and continue the relationship building that is critical when developing a business that is enhanced by return business.
Steve carries himself with an air of professionalism and I could imagine why fisherman would request his services on future trips. He had been guiding in the Bozeman area for more than 18 years.
Then it was time. Our guest fisherman had arrived and myself and Scott, the surgeon, were selected for critical evaluations today. Scott was to guide the morning and I the afternoon.
Our guest, Kurt, was a geologist by educational training and worked for an environmental firm, TRAC. Coincidently, Hank, our college aged son, had interned with TRAC two summers during his undergraduate at Montana Tech in Butte, MT. So, I had conversation points! Yippee. I met Kurt and told him I'd see him again at lunch and share the afternoon.
We drove to Craig and put in at the town boat launch. The waters were quiet and the day dry and slightly overcast, which is excellent for fishing. I started my day with Steve and student Shane. Shane is a nice young man from Wisconsin who loves catching pike and muskie. He owns a boat and knows the row techniques and loves to fish. He's a fun guy to share the day fishing with. Of course, I began by rowing. I wanted to practice for the afternoon client. Steve drilled me on treading the water, picking seams, and places for a row around. We returned fishing and rowing. Mark caught some fish as did Steve our guide/instructor. I was pretty happy when my cell phone, which had been dead all day, started to ping. I reached down to turn off the volume when I saw "he's in surgery" followed by "he's in ICU!" followed by "its in his tonsils." I quickly text, "who" and the reply "John" came just as we rounded the bend and lost service. Now I was frantic. I told the boats passengers what I'd seen and Steve asked if I wanted to pull into shore (it was probably a 3 mile walk back to town). I thought about it and said, no, I couldn't do anything anyway and wanted to get the test and evaluation behind me in case I needed to leave early the next day. But boy, was my mind distracted.
We fished another couple miles and stopped as a group for lunch. Following a sandwich, I went down to Brad's boat where Kurt was finishing lunch and ready to fish again. This time with me as the guide.
He had cut off his rigging to test my skills and I rigged him up with the same setup I'd been using: 9' leader, tippett to thing-a-bob, splitshot, scud and Ray Charles. Figured it worked for me, it would work for him.
We pushed off and within a 100 feet or so, the seam on River right produced a hit for Kurt. I exercised a row around and on his third cast, he landed a nice rainbow. Good, I thought, I'm not skunked!
I paddled off and didn't get 500 ft before a storm started rolling in and we were hit with a 15 mile/hour wind. I didn't know what to do as my boat zigzagged and tumbled downstream. Brad, knowing my dilemma said loudly, "Jane, we haven't taught you to row in wind, so just listen to my direction and we will get down river". He said this for my benefit and also for Kurt's.
I rowed this way and that. I circled and zigzagged. I managed to get Kurt on a few long drifts and he caught several more fish. I rowed forward and pushed backwards. The wind whipped at my face and then was at the back of my head. When my arms tired of pushing into the wind, I would turn my back to the wind and pull. It was so frustrating. But Brad kept the instructions going and Kurt kept fishing.
We did row arounds in the best spots and it paid off in fish for Kurt. Finally I saw the boat launch in sight for the take out. Just as I did, Kurt got a strong hit off the left side of the boat. Brad suggested a row around. It took three row arounds for Kurt to pull in a nice brown trout! I was exhausted after the second row around but Brad pushed me to my limit knowing it would help me realize I had more in me than I thought. After netting the fish and releasing it, I rowed us to the take out.
Once we secured the boat on the trailer, I thanked Kurt for fishing with me. He said he was happy with the day. "I caught fish, I could hold a long drift, and I didn't have to row. It was a great day for me."
We said goodbye and returned to our cabins. Once all the boats were back, I met with 4 guide instructors for my critical evaluation. Steve started the discourse saying, " I speak for us all when I say we just love you, Jane." My best days for the guide school was when I was paired with you." Brad acknowledged how hard I had worked and the obstacle of the wind which I had no experience. He said, "You have worked your butt off this week and I was glad to work with you." Casey, whom I had not fished with, complimented the ease I made people feel and Sean encouraged me to take this guide business further. Of course, there was improvements to make me a better guide such as rigging faster, and more rowing experience. In all I was relieved and pleased that I had stayed the course.
Fishing 4 rivers in 7 days with excellent instructors was an awesome experience. Meeting other folks with the same interest from different parts of the country added to the week. I'm lucky to have the support of a loving husband and two sons that encouraged me to try things. And good friends back home that don't laugh when I step out of a comfort zone.
As a final note, I found one cell bar on the outskirts of Craig and called my sister about my brother John. They removed the cancer and with treatment the prognosis is good. I was relieved and went to join the others for a beer and supper. Boy, did that beer taste good this night.
Day 7: Last day on the Mo and impression of the class. Day 7 turned out to be a pleasure day and so different that the previous 6 days. I had completed the hardest portion and sailed through the critical review portion. My shoulders were light and my stress was gone as I walked into the final class session. Sean, our technical guide, was there to discuss next steps for the fly fishing guide wanna be's and to discuss our impressions of the School.
An open discussion bounced between these two topics. Sean recommended developing a fishing resume. An employment record which demonstrates skills other than fly fishing that often times brings new qualities to the fly shop. This should include any education opportunities the students had completed and a list of all the waters that the student had fished. He suggested this be done for the benefit of collecting thoughts and building confidence and be prepared to delivered to the outfitter or the guide shop owner as requested. Prepare a booklet that includes this resume and copies of all the required paperwork: guide license, insurance authorizations (personal liability and vehicles insurance), a photo of your rig (a nice looking truck and boat presents a positive image for the guide and flyshop). Finally, personal references should round out this package. Fly Fishing Shop Owners want to know that someone, especially an employed guide, endorses you. Friends, past clients, or instructors would be suggestions for this reference.
Our discussion turned to class impressions and everyone was very complementary of the structure of the class and the quality and benefits of fishing 4 different rivers. I piped up and suggested a question to the student of past rowing experience, as this was my biggest challenge. I recommended that if no experience, a suggested reading or video instruction might be suggested.
Doug, a student from Great Falls, suggested more instruction on rigging for different water bodies, a good suggestion. Another fellow, Mark, wanted more time to develop a resume and then have it reviewed and also some time spent talking about each student's business plans (he wants to target business executives and give them an upscale experience). Good discussions and recommendations.
After this session we headed out to gear up for the last day's fishing and to meet three guest clients that would be helping with the evaluations. I was glad to meet Anna, a women angler, glad Pat had chosen a gal to evaluate the team. The sky was threatening and thunderstorms were threatening so no time was wasted getting into waders and rigging lines. This would be done dock-side today. It was also to be a short day, plan to arrive at the take out by 3 pm.
We headed to Craig, MT, to float the same stretch that was fished the prior day. Should be an easy float, if the wind doesn't pop up as yesterday. I was pretty relaxed and helped secure the boat in the water with a lightness in my heart and rain gear on my head. I was paired with Brad and with Mark, the Utah business exec from Adobe Software. I could tell he was a bit nervous but I don't know why. He is a good oarsman and good angler. Brad insisted that I fish all day, no oars for me this final day.
So I was treated to the front seat of the boat as we fished the Missouri once more, a different stretch. It was cloudy, rainy but no wind.
We took off and I caught my first rainbow in the first seam on river right. This was the same honey hole that my guest Kurt had produced a fish the day before. This fish was approximately a 14" trout and I lost it before landing it in the net. Brad gave me another lesson, setting the hook. His technique is The Statue of Liberty. He explained that Lady Liberty holds a lamp in one hand and a book in the other. When using this technique, as soon as the bobber wiggles, raise your rod had high above your head like the lamp and with the fly line in your book hand, pull the book down to your side. It's a zipper like action with both movements happening at the same time. I tried this move several times to get the hang of it and used it throughout the day. As Brad explained, if you miss the fish, simply push the rod forward as in a overhand cast and you are right back to fishing. I love it and wish someone had taught me this sooner. They may have if I'd not insisted on rowing all the time. :).
We continued fishing and the rain came down. Sometimes the rain was soft and drizzling other times it poured from buckets. We ate lunch huddled on the wet shoreline but from the boat seats that were kinda dry. After lunch, the students changed out boats so the guest was with the second student and off we went for my final afternoon. We stuck to the scud and nymph rigging that was successful the day before. I recognized the importance of staying with the waters you know hold fish and the flies that catch them. No fooling around with the fun patterns in your fly box. Tried and true is important, especially when guiding for a paying customer. They are there to catch a fish and it's your job to make it happen.
I caught a couple more rainbows in the afternoon and landed them thanks to the new Statue of Liberty move and was all smiles when we pulled into the boat ramp. It was still raining, which was a bummer, because our goodbyes were short. I hugged these guides that were so helpful to me, invited them to come and fish my home waters and jumped into my Subaru. As it's a 12 hour drive, I made arrangements to visit a friend that lives on Flathead Lake, a three hour drive away. I arrived at Susan and Jim's beautiful lake house exhausted. They took me to the Tamarack Pub for beers and burgers and when we got back, it wasn't long before I hit the hay.
A good nights sleep refreshed me and Susan and I spent the day chatting and cuddled by the fire. One more nights sleep and I headed the car towards Wyoming. It was a long 12 hour drive (Flathead was a diversion for rest, not to improve my drive time). I arrived home about 9:30 pm Monday night. All the boys (Oscar, Hobbs, our dogs, and Henry) were glad to have me home. And I was happy to be home, too.
Now my adventure is what to do with this new found knowledge. It will take some time to figure it out but that is what I have, time. Retirement offers this and I'm glad I have it.
Jane
 Pratte (2016)